Updates from Rachel: My Next Book!
My Next Book!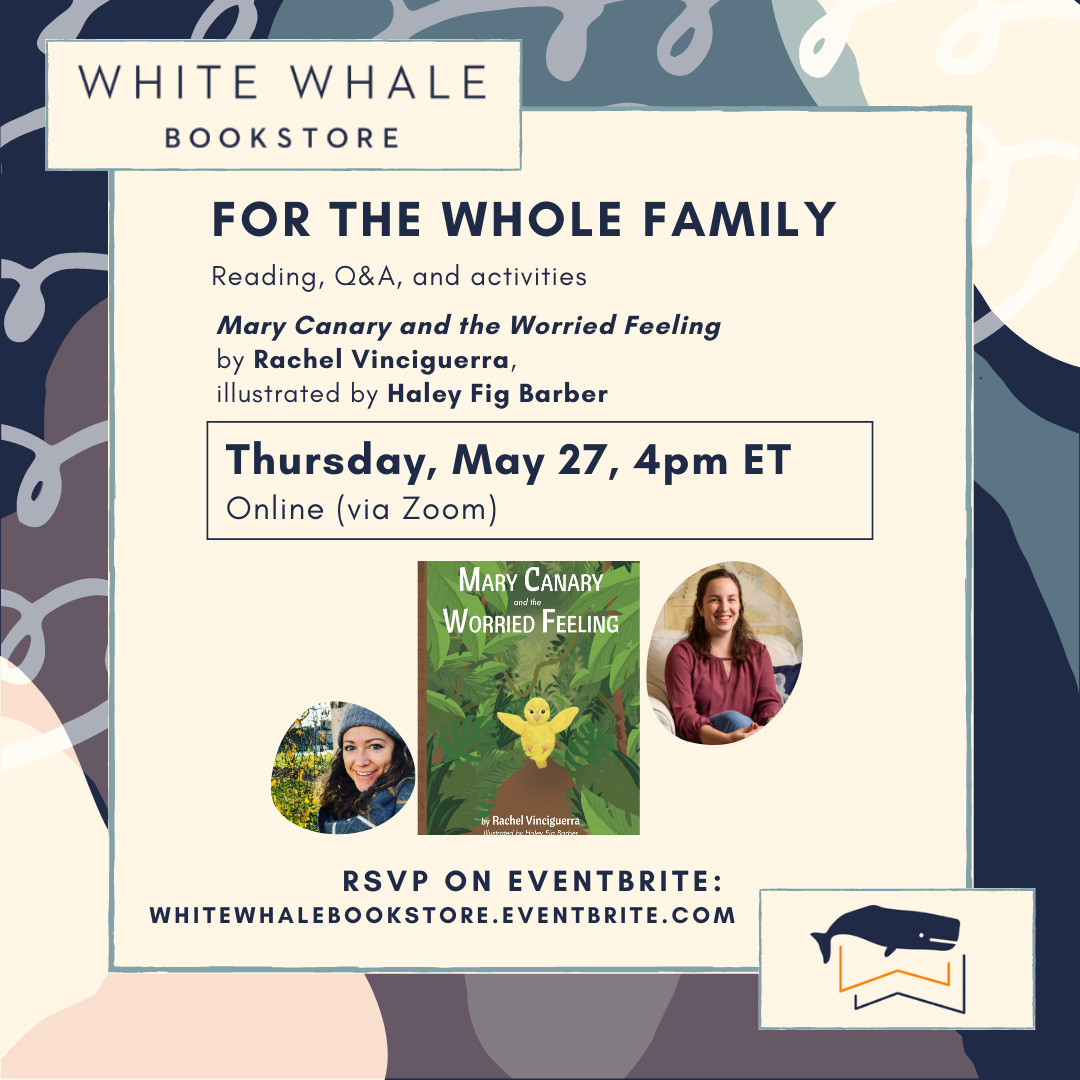 Hello friends,
I am so excited to share with you that I have a new children's book coming out on May 27th called Mary Canary and the Worried Feeling. 

In the spirit of mental health awareness month in May, I'd like to share a bit about my journey in writing this book. I have managed anxiety for much of my life. I was diagnosed a couple years after finishing college. Therapy has been incredibly helpful for me as have breathing exercises, mindfulness, and a great support network. 

A little over a year ago, I read an article in which Greta Thunberg shared how she thought of her Asberger's as a superpower. I asked myself what it would look like for me to think of my own anxiety (and depression) as a superpower. What would it be like to reframe how I see these parts of myself?

I journaled about it, reflected, shared my thoughts with my therapist. And it was really helpful for me. Instead of "struggling" with anxiety, I started to see it as a part of who I am and something I manage. I wanted to share that framework with other young people be highly sensitive or intuitive to the world around them. 

One of the superpowers of anxiety, in my personal opinion, is that you are more attuned to others and your environment. Unfettered, that can be crushing at times, but often it also creates a lens of empathy and awareness. Like the canary in the coal mine, these folks may notice a disturbance before others.

So I wrote this book for kids who could use a new lens to see their worried or sensitive feelings. Ever more relevant today.

The journey was made even sweeter because I have shared it with others. In a very vulnerable Instagram post for me, I shared that I was working on this book (what felt like a bold statement at a time when I hadn't published my first yet!) and was looking for an illustrator. Within a couple hours my good friend, Haley Fig Barber, reached out saying she had it on her heart to illustrate a children's book! It's been such a joy to collaborate together across continents to bring this to fruition.

You can pre-order a copy of the book from my site here (the first 100 direct orders get signature plates and stickers) or, if you're local to Pittsburgh, consider ordering from White Whale Bookstore which is hosting the virtual launch event on May 27th.

No matter where you're based, I hope you'll join us for launch, you can find the details and register here. And consider bringing along a young person in your life who might enjoy story time and some movement.

Wishing you some peace and balance headed into the week.
 
Take care,

Resources from Rachel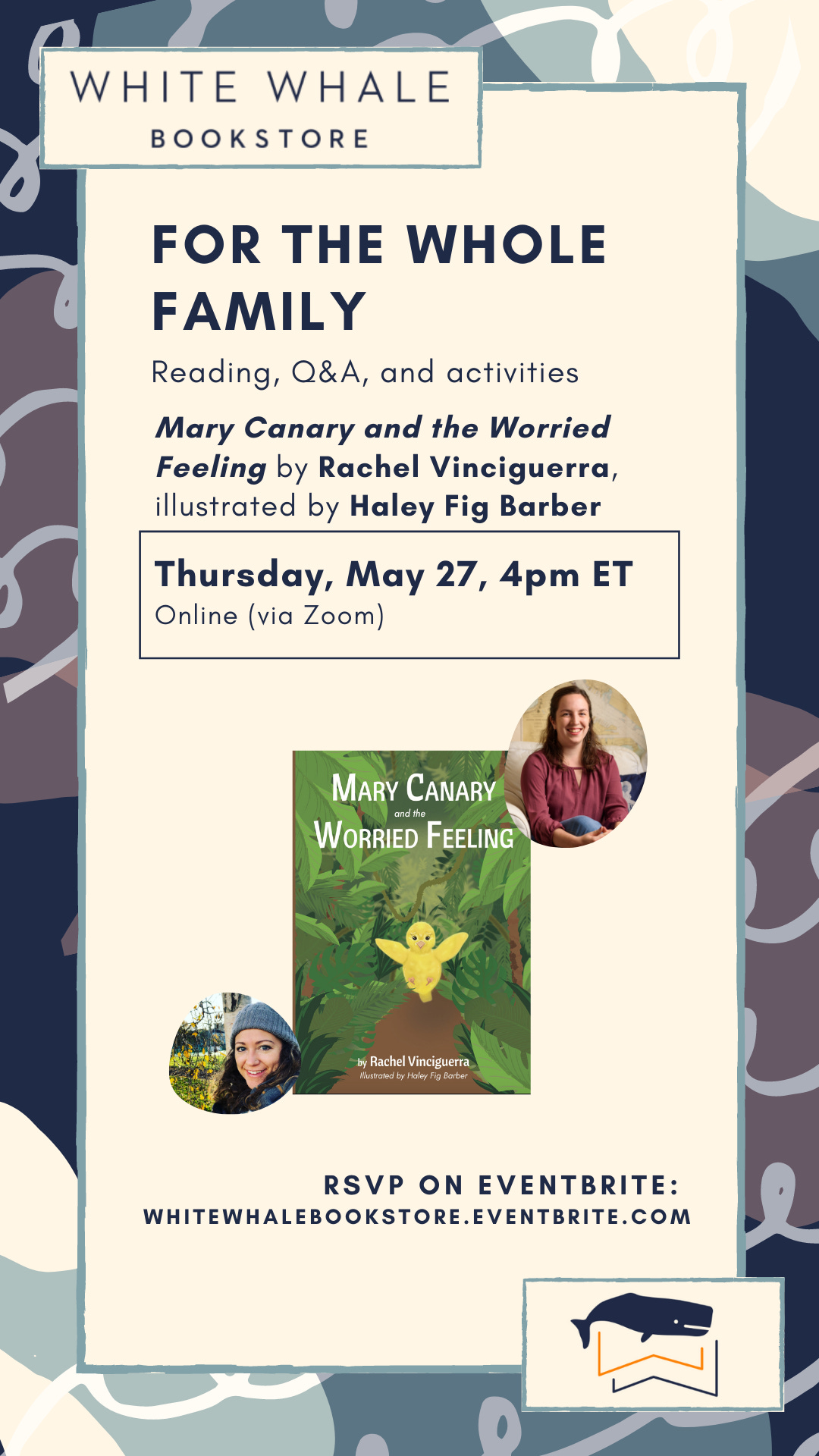 Mary Canary and the Worried Feeling

My newest book's publication day is coming up next month on May 27th! You can pre-order a copy today wherever you get your books. Some options:
Order from White Whale Bookstore which is hosting my launch event! (I can sign copies here and leave stickers too).

Order directly from me on my site (the first 100 direct orders get signed bookplates and stickers) or from my Bookshop.org.

Order from any number of other wonderful indie bookstores, or Barnes and Noble, or any other internet location.
And please join me on May 27th for the reading, Q&A, and some fun movement for kids!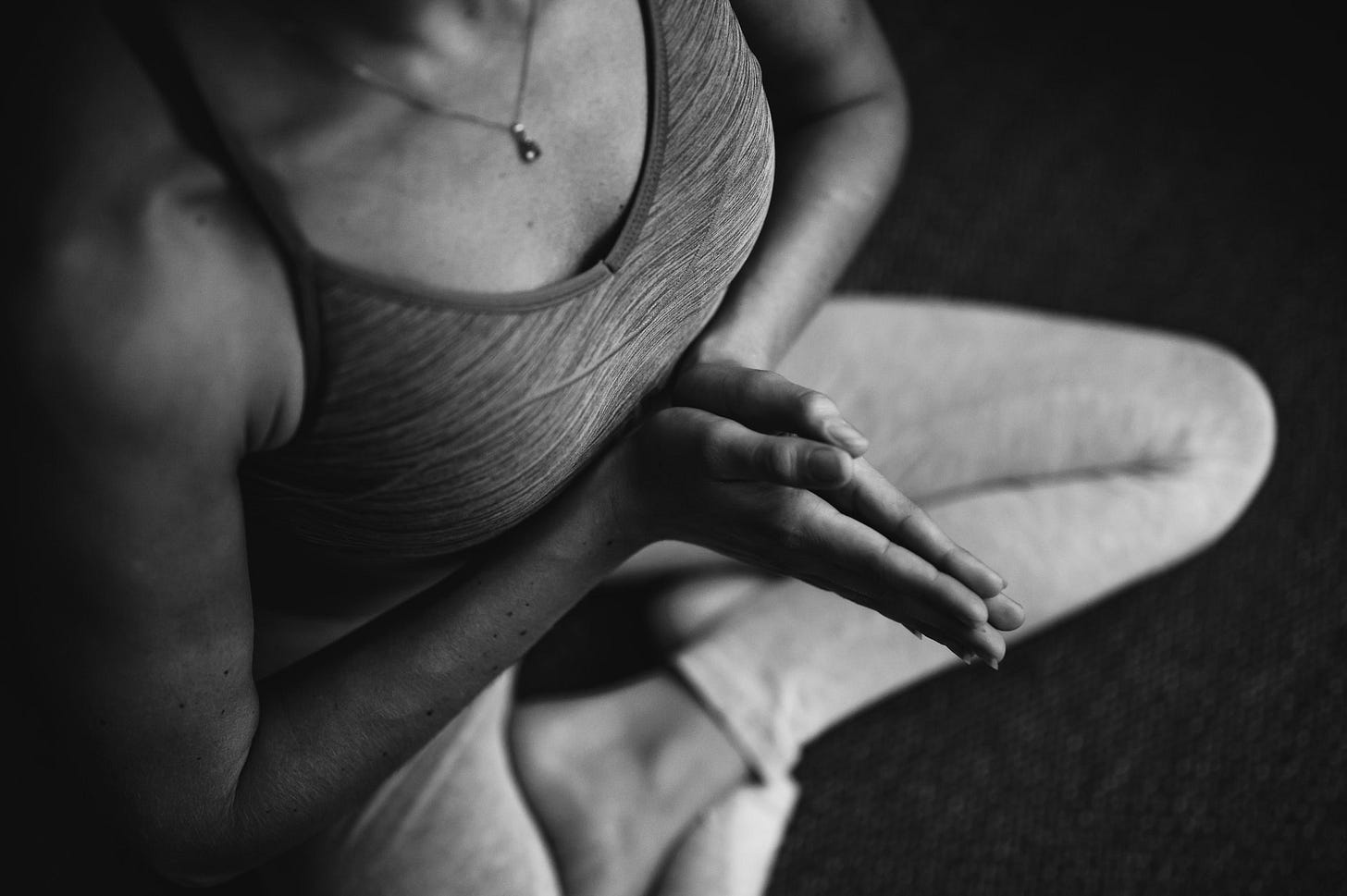 Payment-Optional Online Yoga

Remote, 30-minute yoga classes continue with Yoga U Pgh on Tuesdays and Wednesdays each week at 7:30 a.m. EST.

These classes are payment-optional. You can email me directly to get the link to join! 
Rachel's Recommendations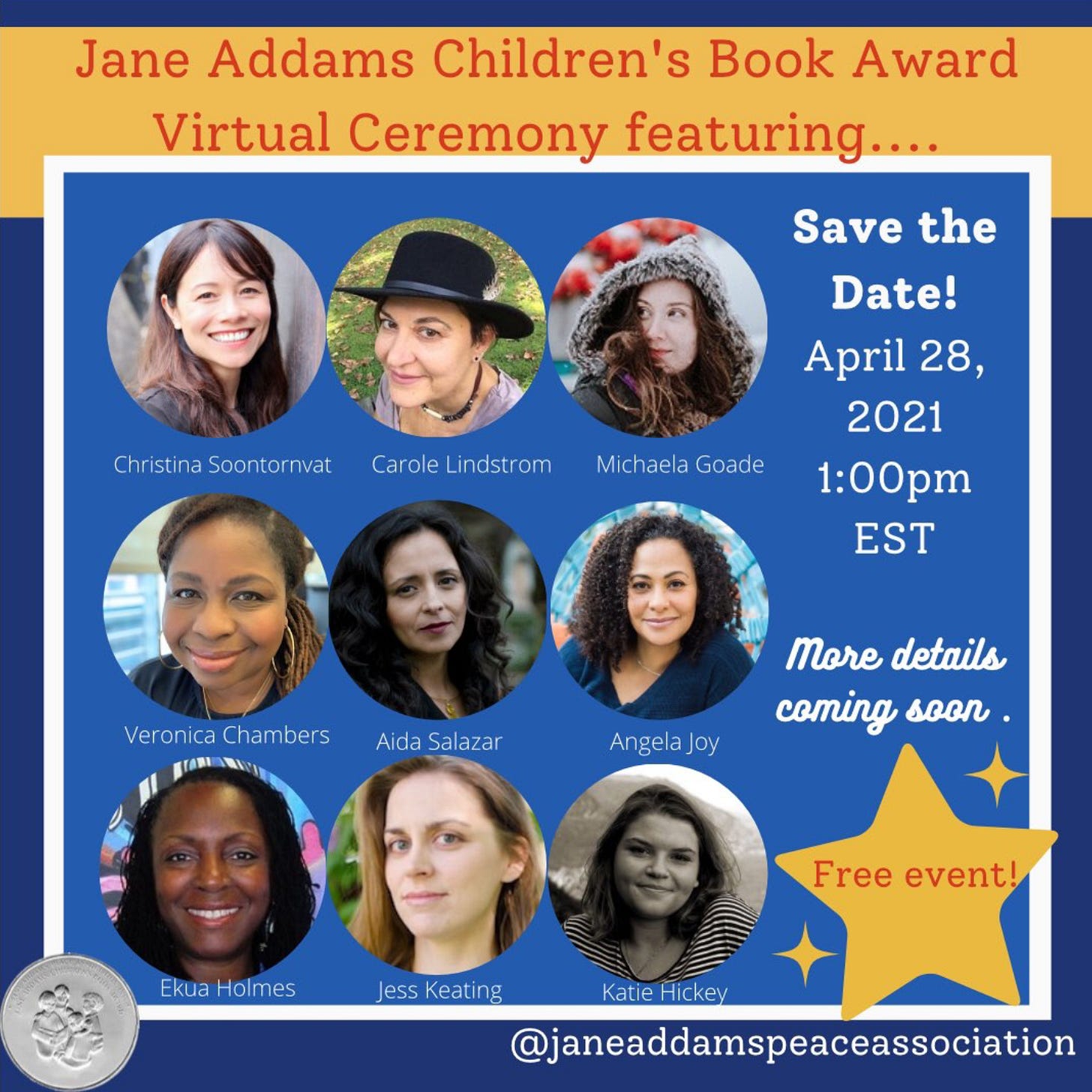 Tune in for Jane Addams Children's Book Awards

For the first time the Jane Addams Children's Book Awards are virtual! If you work with young people and/or love literature that sparks social justice conversations, this is an event for you. And it's on Wednesday!

Register here to hear from authors including Carole Lindstrom who wrote We are Water Protectors. The best children's book I've read this year. (If you can't make the ceremony time in the middle of the day, you can still register to receive the recording afterward).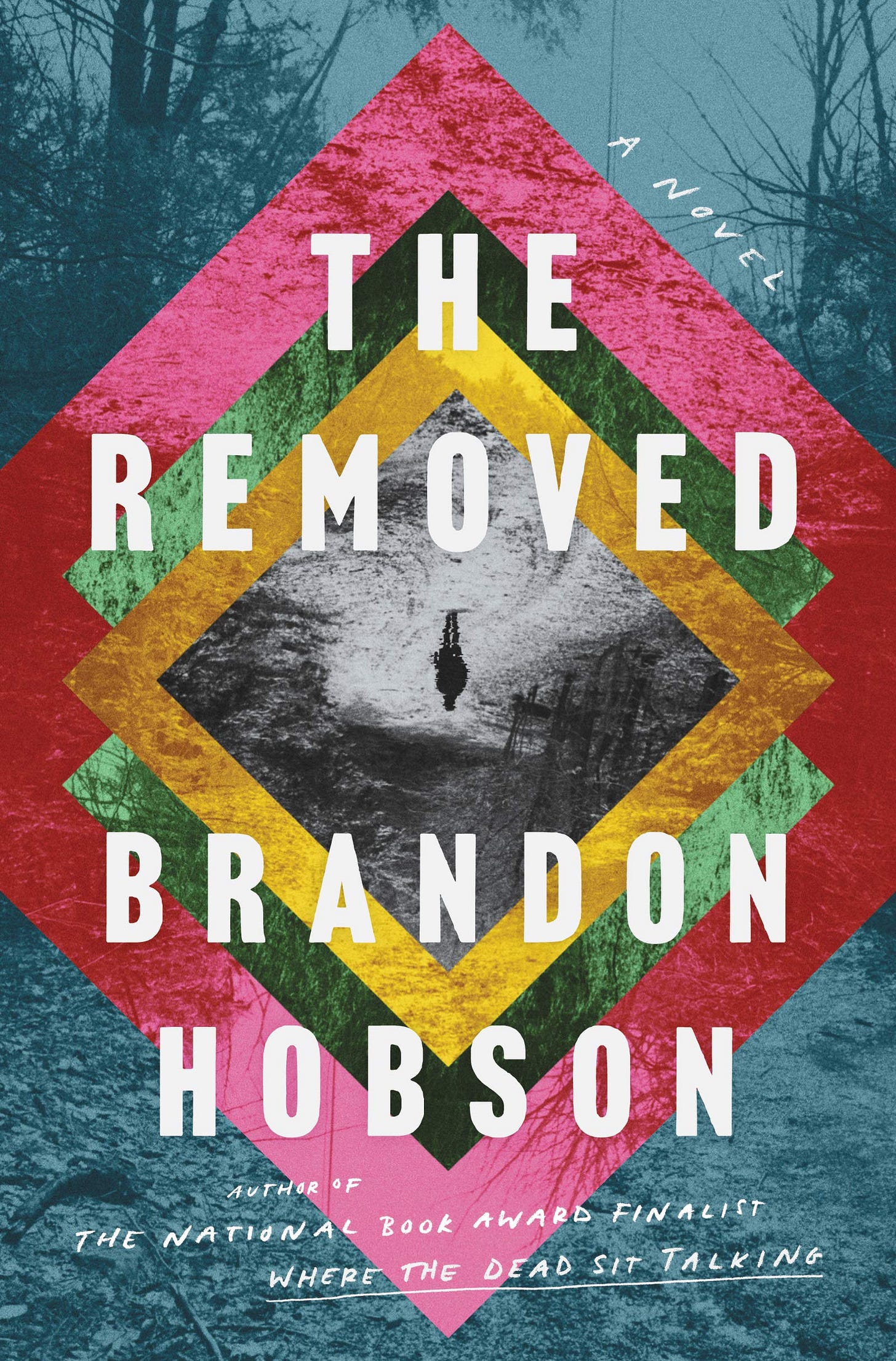 The Removed

About a month ago decided to look at the representation of various author identities I've read over the years on my Goodreads account. I realized I have not and am not reading nearly enough from indigenous American authors so I've been keeping an ear out for books from that perspective.

When Brandon Hobson was on one of my favorite book podcasts, I was intrigued by the book he described and got it from my local library. The Removed tells the story of a family 15 years after their son was killed by a police officer. It's interspersed with Cherokee myths and perspectives of each member of the family. It was hard to put down and is brilliantly written.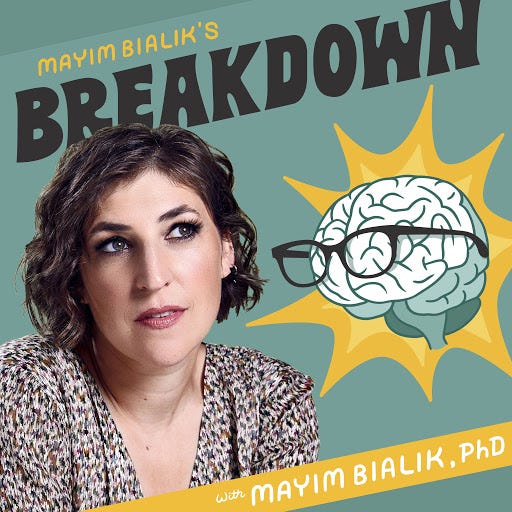 Mayim Bialik's Breakdown

With mental health awareness month coming up in May, I wanted to promote this podcast. Mayim Bialik is a neuroscientist and actor famous for her role on the Big Bang Theory. 

In this show she breaks down mental health diagnoses and common misconceptions about anxiety, addiction, depression, and more. Relatable, easy to understand, personal, and often funny too. Some of my favorite of her guests include: Cheyenne Jackson, Leslie Jordan, and Mayim's mother.